Having Toilet Problems?
11/5/2021 (Permalink)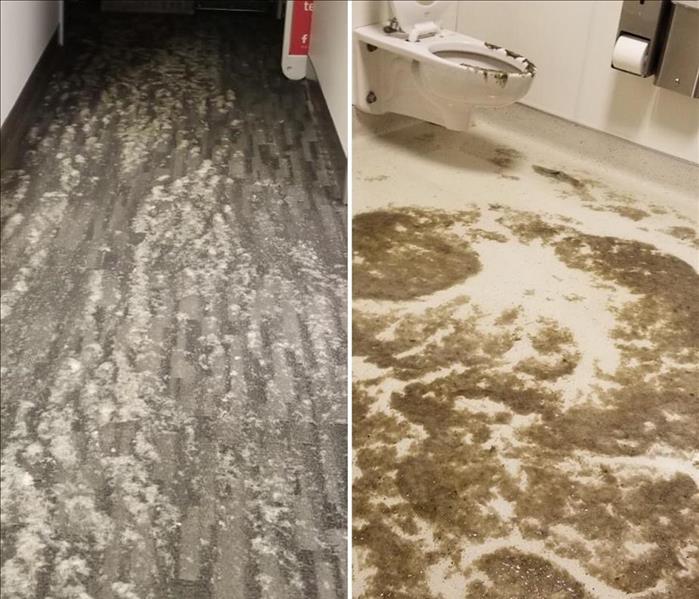 This Commercial Property had a backed up toilet overflow into the office. When the unexpected happens, we are here to help!
Leaks or overflow onto your workspace floors is a terrible way to walk into work. It gets more interesting when you learn that the source is from a malfunctioned TOILET! Even worse is finding out the cause of why it overflowed. When a broken toilet is discovered, the major issue that could happen is shutting down your whole operation, depending on the damages found.
Some think that mopping up the water and drying out the floor is the solution. Though it may be a quick clean-up, there are preventative tasks that can contribute to keeping a "healthy toilet" functioning well.
Check the Wax Ring at the Base of the Chamber Port - Water can emerge at the base of your toilet if the wax seal of the toilet and the floor are not secure.
Check the Toilet Flange – Located on top of the floor, but inside of the toilet base, sometimes the flange can be loose, or even chipped or broken.
Check the Supply Tube – Make sure that this tube is dry on the outside. If wet, a loose coupling nut or other connection may need to be replaced.
If any of these problems occur, call or text SERVPRO of South San Francisco City/ San Bruno at 650-794-1000 as soon as possible. Our very experienced and well-trained staff specialize in water damage remediation. They are ready to get your bathroom back to working order, "Like it never even happened."